AnyDroid - 1 Device - Lifetime
Special Price
$36.99
Regular Price
$69.99
Buy AnyDroid now! 
AnyDroid is an almighty Android manager that converges all your Android phone/tablet and consolidates access to all your content from one handy place, such as messages, photos, contacts, music, apps, and more.
You will receive your code to redeem in your account within minutes by eMail. In order not to miss out the mail, please check the spam or junk mail folder too!
Delivery Time: 1~24 hours
Download: Official website
AnyDroid is an almighty Android manager that converges all your Android phone/tablet and consolidates access to all your content from one handy place, such as messages, photos, contacts, music, apps, and more. In just one tap, it helps transfer everything from Android-to-Android, or even from iOS-to-Android seamlessly. It also enables you to take complete control over all your Android data and files.
How To's You May Need
Transfer Data from Huawei to Samsung
Transfer iCloud Backup to Android
Transfer Text Messages from iPhone to Android
Transfer Contacts from iPhone to Android
Transfer Files from PC to Android
Transfer Photos from Android to iCloud Export SMS to PDF on Android
How to Archive Text Messages on Android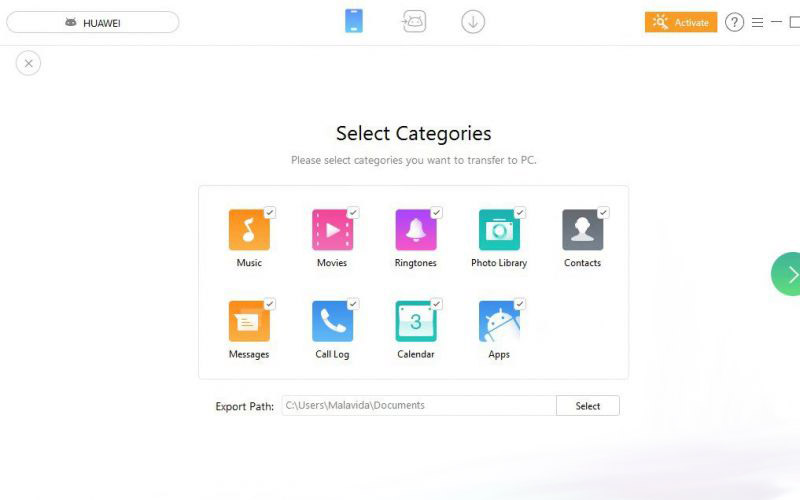 Features:
The Beautifully Organized Android Life,Come with Ease and Free from Cords
AnyDroid (originally AnyTrans for Android) is designed to make your data management experience more instant, more convenient,and more delightful.Now free yourselfrom USB cables, and take care of your whole Android content on computer instantly via Wi-Fi.Get ready to spend less time managing and more time enjoying your colorful Android life.
Media Collections, Controlled
Your phone is crowded with growing media, and AnyDroid keeps them under control to save you from mess. A single click backs up photos and albums to preserve your memories. So you can make space for more life moments. Want to bring your music collection wherever you go, or enjoy videos you shot on phone from computer's big screen? It's a tap away.
Personal Connections, Secured
As contacts and messages connect you with everyone you care about, AnyDroid makes sure your connections are secure. You can back up contacts as your preferred format for future use. Browse messages and attachments from computer, and safely save precious conversations. Or, move them to a new phone at one go. Your connections are always at your fingertips.
Apps and All Your Files, Handled
AnyDroid handles almost all types of files on your phone. It lets you batch install, uninstall, and back up a bunch of apps in a blink of an eye. Easily explore files by category. Quickly spot what you want by searching keywords. Categorize scattered files into folders to keep neat. You will experience the most comprehensive and comfortable content management ever.
In All Cases, We've Got You Covered
In-depth Management for Whole Content
Whether you want to transfer, organize or back up your phone, AnyDroid is here for you. No matter you want to manage photos, music, contacts, messages or any other data and files, AnyDroid gets there easily. It's just a few clicks away from keeping your content rich, organized and secure.
Instant Transfer with Lighter Experience
Need to add new songs or videos to your phone or export photos you took to computer? AnyDroid gives you lighter experience. Don't have to install any program on PC/Mac. No need of a USB cable. Skip tedious process. Simply scan a QR code, and you can start transferring files instantly.
Direct File Sharing Between Phones
AnyDroid makes file sharing easy peasy. Just install AnyDroid app on two phones and they'll communicate directly. Whether you want to share photos with family, share fun videos with friends, or send documents to your colleague, the files will fly fast to your wanted destination.
Take Precious Memories with You to The New Phone
Switching to a new phone doesnt necessarily mean to leave your precious memories behind. With AnyDroid, you can moveover al your essentials seamlessly, safely, and speedily. Contacts of friends and family, photos of life highlights, messages youwant to keep, songs you like to listen to, even the apps you need to use everyday. Everything you love is there on your new phone - no matter it's from an old Android phone or iPhone, or even iTunes and iCloud.
Move Between Android Phones
Covering literally all Android mobiles out there,AnyDroid enables youto migrate data freely between any phones - or from a tablet if you like.lt breaks the boundaries of brands, models and Android versions. Soyou can bring everything important with you and move around smoothly.
Switch from iOs to Android
AnyDroid fills the gap between ios and Android systems, and makesthe switch easy and seamless. ln only one click, you can move what youwant from iPhone, iPad, even iTunes and iCloud.No fear ofcompatibility issues. All iOs content will be auto-converted to Androidsupported formats.