Special Price
$9.21
Regular Price
$10.24
Dead by Daylight for PC is a survival horror game from Behaviour Interactive.
You will receive your code to redeem in your account within minutes by eMail. In order not to miss out the mail, please check the spam or junk mail folder too!
Dead by Daylight for PC is a survival horror game from Behaviour Interactive.
About the Game
There are broadly speaking two ways to play: four online players join forces against a single killer, also an online player. So you can be the killer or you can be one of the four working against him or her.
Villainous Villains
There are a number of original villains to square up against or to play as, and there are a number of downloadable characters from popular culture, such as Leatherface from The Texas Chainsaw Massacre, Freddy Krueger from Nightmare on Elm Street, John Kramer from Saw, Evil Ash from Evil Dead and the Scream-faced killer from the Scream movie franchise.
There are sixteen original killers, mostly with one word names prefaced by the word 'the': The Nurse, The Clown, The Trapper, with only The Ghost Face having an adjective.
Villains are one-paced, with a moderately fast walk-run their only gait. However, this is ever so slightly faster than their victims can run, so in a straight race, the villains will always win. Villains must strike their prey twice, once to injure and slow them down, a second time to incapacitate them completely. Injured players can be caught more easily while trying to evade the killer, while those with full strength can resist better and dodge faster.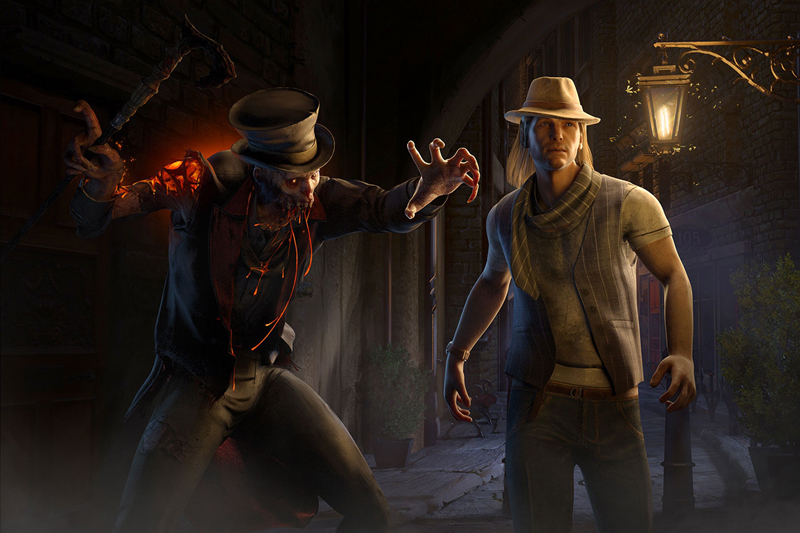 Survivor Tactics
There are a total of seventeen survivors that the four cooperative players can choose to be. Diversity is reasonably good with most people able to pick avatars that correspond with their preferred look. As villains can outrun survivors in a straight run, the survivors need to get a little bit ingenious in order to escape. They have to fix a set number of generators (usually five, one for each player including the killer), in order to fix the gates that will set them free.
An alternative mode of escape is to reach an escape hatch which automatically opens for them when there is only one survivor remaining. More than one survivor means that the hatch will require a key to be located and used if that means of escape is to be used.
Players' movements are fairly varied, with two paces: walk and sprint, although, as mentioned above, sprint is still slightly slower than the villain's one-paced gait. Players can also crouch-walk and crawl, both of which come in handy when players are trying to avoid the killer by remaining out of his or her sight-line.
Players cannot outrun the villains, so they must dodge out of sight either before they are spotted or within the duration of a chase scene, while the villain is still far away enough to be evaded.
Keep Your Eyes Peeled
As well as watching out for the villain (when playing as the villain you only have one task: find the survivors and change that status!) survivors should keep an eye out for the following useful items:
Flashlights – shine a flashlight into the eyes of the killer and it will momentarily dazzle them, allowing survivors to rescue a captured buddy before the villain can sacrifice him or her
Med-kits – first aid kits so survivors can heal themselves without needing to wait for a buddy to come along and heal them
Tool boxes – can be used to sabotage the meat-hooks on which the villain displays his bodies, and they can also spring bear traps harmlessly, making the area safe for survivors
Maps – these useful tools track objects, making it easier to find them
Pallets – these massive wooden boxes can be stood on end and dropped by a passing survivor onto the villain, momentarily stunning him or her, so the survivor can get ahead and try and find somewhere to lie low
Minimum Requirements*
OS:64-bit Operating Systems (Windows 7, Windows 8.1)
Processor:Intel Core i3-4170 or AMD FX-8120
Memory:8 GB RAM
Graphics:DX11 Compatible GeForce GTX 460 1GB or AMD HD 6850 1GB
DirectX:Version 11
Network:Broadband Internet connection
Storage:25 GB available space
Sound Card:DX11 compatible
Recommended Requirements*
OS:64-bit Operating Systems (Windows 7, Windows 8.1 or above)
Processor:Intel Core i3-4170 or AMD FX-8300 or higher
Memory:8 GB RAM
Graphics:DX11 Compatible GeForce 760 or AMD HD 8800 or higher with 4GB of RAM
DirectX:Version 11
Network:Broadband Internet connection
Storage:25 GB available space
Sound Card:DX11 compatible