iSlide PowerPoint Premium - 1 Year
Special Price
$19.99
Regular Price
$39.95
Availability:
Out of stock
Buy iSlide Premium - 1 Year now!
This product includes one iSlide 1 year premium membership activation key. The key will be sent by email after purchase within minutes. Please check the spam or junk mail folder too.
Professional Presentations Lead Success. iSlide, the common choice of millions of users. Make PPT design easy!
Redemption please on the iSlide Official Website.
More information about the redemption you can find in the description below or in the delivery email.
iSlide descrpition:
iSlide provides over 300,000 professional PPT templates/materials for macOS and Windows (compatible with Office and WPS), with iSlide Premium membership, you can enjoy massive downloads:
Theme Library
Color Library
Diagram Library
Smart Diagram
lcon/ Picture / Vector Library
Private lcon & Picture Library
Basic & Advanced Features
Tween/ Compress / Analysis
Scale Time / Security Export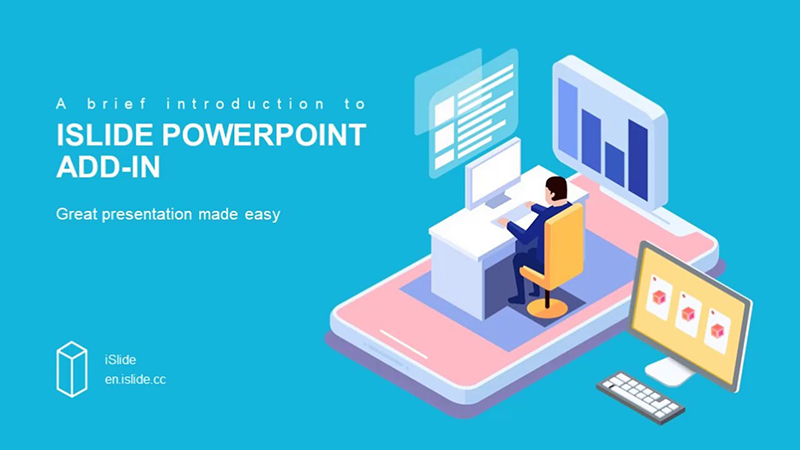 Solve various PPT design problems:
Too much trouble to find material
The web PPT templates are mixed, the design is not standardized, the secondary editing workload is greater, and there are also copyright risks.
Repeated editing changes
When "copy and paste" becomes the norm for PPT, endless text layout, editing alignment, resizing and other tedious operations come one after another.
Unprofessional presentation
Various color matching and graphic layout make PPT design more tangled, and eventually fall into the cycle of "finding templates everywhere and editing and piecing them together again and again".
More than 300,000 PPT templates / materials
Component design: any combination of template / diagram / chart / icon / picture can be flexibly replaced.
Case Library
A selection of the best PPT case works in the PPT industry. In addition to providing well-designed templates, we also give you logical outlines and frameworks for content, and even more valuable and reusable content, which will cover various scenarios of presentation design applications
Diagram Library
PPT diagrams are graphic representations of text. The iSlide Icon Library is a collection of resources for PPT icon pages to help users quickly select and apply them based on logical relationships and text levels, saving time in PPT design.
Chart Library
iSlide chart library provides more professional PPT bar chart, bar chart, gradient chart, ring chart, pie chart and other Excel editable data chart templates, and also provides intelligent charts, through the parameter adjustment to quickly achieve the accurate expression of data and graphics, easy to achieve data visualization design.
Icon Library
Contains nearly 200,000 vector icons, which can be freely adjusted in color, size and even changed in shape. You can insert the icons into the current PPT document with one click, or replace any selected graphic on the PPT page with an icon.

Quickly achieve one-click optimization:
Unified font
You can adjust Chinese/English fonts, preview text effects and application modes at the same time, and replace various fonts used in PPT documents with specified fonts with one click.
Uniform Color
Uniform color can quickly read the colors used in the whole document, and at the same time can quickly jump to the object of color application; by freely filtering color types (fill, line, text, etc.) uniformly replaced by the theme color specified in the current document, so as to achieve the standardized uniformity of the whole document color.
Unified Paragraph
The text paragraphs in the current PPT document (except for the page title) are unified into the specified line spacing and pre-paragraph spacing with one click.
Smart Reference Line
Add layout reference lines in PPT with one click to standardize the design layout, and with the "Reference Line Layout" function in "Design Tools" to automatically align page elements (text, graphics, pictures, charts, tables) in PPT.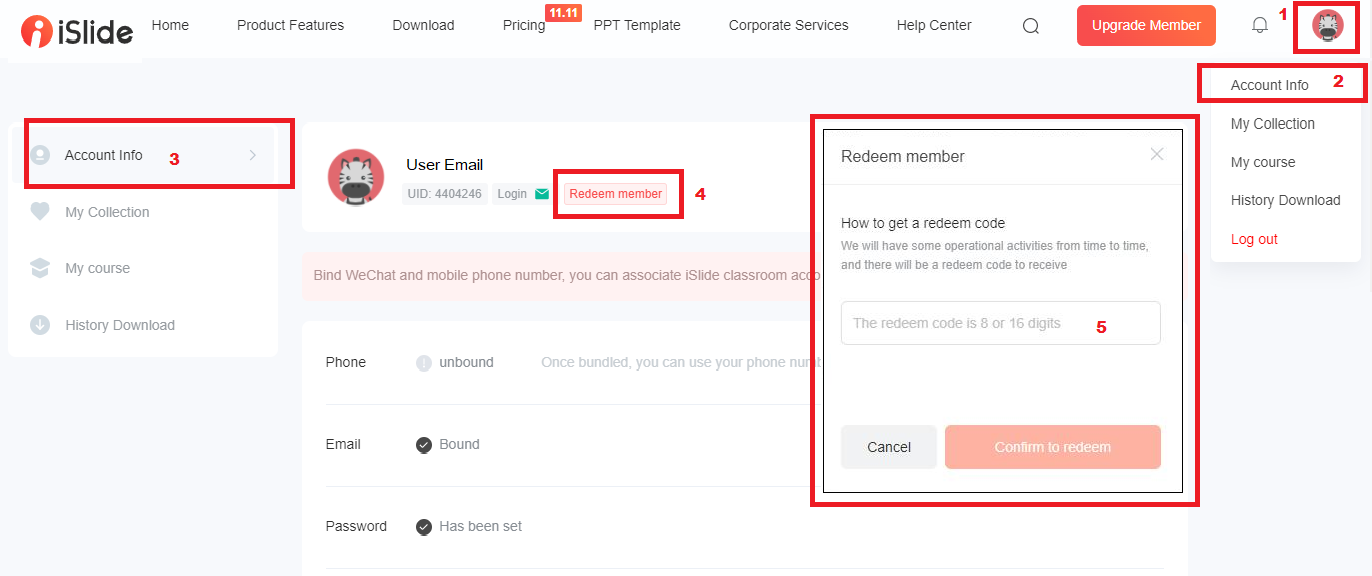 How to redeem a premium member key:
1. Go to iSlide official website https://www.islide.cc/ppt/
2. Click "Login/Register" to create an iSlide account or loggin.
3. Click your avatar at the top right of the homepage and choose "Account Info".
4. Click the "Redeem Member" button and enter the code.