Special Price
$76.86
Regular Price
$79.94
Rage 2 is a first-person shooter video game.You can go anywhere,shoot anything and explode anything in the doomsday fantasy world!
You will receive your code to redeem in your account within minutes by email. In order not to miss out the mail, please check the spam or junk mail folder too!
Buy Rage 2 now! 
    Dive headfirst into a dystopian world devoid of society, law, and order. RAGE 2 brings together two studio powerhouses – Avalanche Studios, masters of open world insanity, and id Software, creators of the first-person shooter – to deliver a carnival of carnage where you can go anywhere, shoot anything, and explode everything.
    From monster trucks to gyrocopters, use an assortment of rugged and wasteland-ready vehicles to speed across the badlands. If you see it, you can drive it.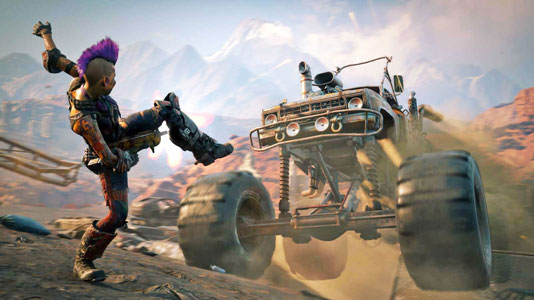 Bring the pain using a collection of upgradable weapons, devastating Nanotrite powers, and Overdrive, the ability to push your guns beyond their mechanical limits!
    Seamlessly traverse a vast and varied landscape, from lush jungles and treacherous swamps to sun-scorched deserts in your pursuit of The Authority. The wasteland is massive, and you've got the arsenal to fight for every inch.
    Fight against ferocious factions for control of the wasteland, each featuring a rogue's gallery of madmen, mutants, and monsters hungry for blood.