Windows 11 Essential Software Package
Special Price
$142.99
Regular Price
$235.79
Buy Windows 11 Essential Software Package key.
This product includes one Windows 11 Pro - 1 PC key, one Office 2021 Pro Plus - 1 PC key, one Ashampoo Backup Pro 16 key, one McAfee Total Protection - 1 Device - 3 Years key, one Adguard - 1 Device - Lifetime key, one Ashampoo UnInstaller 11 PC key, one Ashampoo ZIP Pro 4 key, one Ashampoo PDF Pro 3 key, and one Ashampoo Driver Updater 3 PCs 1 Year key. The keys will be sent by email after purchase within minutes. Please check the spam or junk mail folder too.
Office 2021 Pro Plus is only available for Windows 10 or later versions in both 32-bit and 64-bit versions. Not for Mac.
Deliver Time: We will ship you product keys in batches within 24 hours.
Dowload link: Windows 11 Pro, Office 2021 Pro Plus, Adguard,  Ashampoo ZIP Pro 4, Ashampoo PDF Pro 3, Ashampoo Backup Pro 16, Ashampoo Driver Updater, Ashampoo UnInstaller 11 PC
More information about download and installation you can find in the description below or in the delivery email.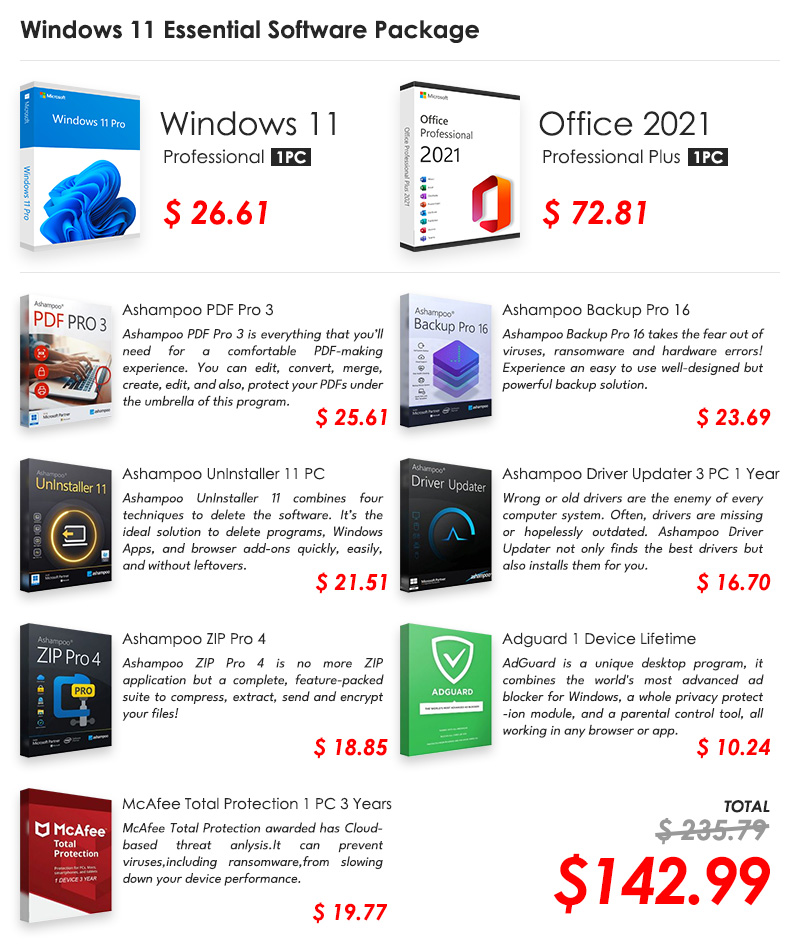 Buy Windows 11 Essential Software Package and you get the activation keys for
If you want to buy one of these products individually, you can go to the link in blow:
About the new Microsoft Windows 11, visually, the biggest changes you'll notice can be found along the taskbar. Microsoft has centered the app icons here, cleaned up the tray area, and included a new Start button and menu. The Windows 11 start menu is now loaded with more features and tools and it gives quick access to various tools and controls. Its desktop lets you run several apps and programs simultaneously, each living within its own little window. That separation lets you spread several programs across the screen, sharing bits of information among them. In general, the changes of Windows 11 make user interface more concise and clear. Various tools will also make you obviously feel the optimization and improvement of the system.
How to Activate MS Windows 11 Professional Key?
1. Download Windows 11 Pro from official website: Link Here>>
2. Install Win 11 Pro
3. Click on "Start"
4. Open "Settings"
5. Click on "System".
6. Find a message from the right section: "Windows isn't activated", and click the Activate now button.
7.Under the Change product key section and click "Change".
8. Type the activation code sent to you after purchase.
9. Click "Next", Windows will begin the activation task.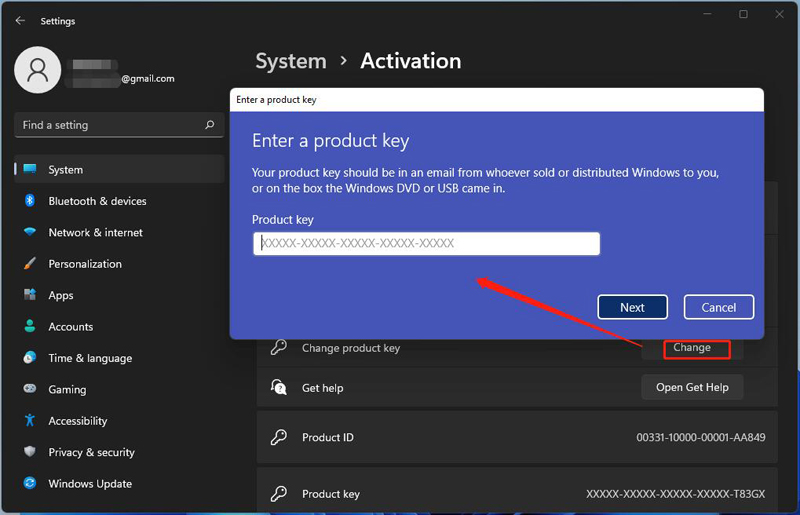 MS Office 2021 Professional Plus comes with many new features to make you more productive in all development phases. It is a very powerful productivity suite to process the data and handle any kind of documents, presentations, spreadsheets, and databases. A ribbon-based user interface provides quick access to all its available tools and text customizations. The users can easily customize the font, layout, indentation, size, color, and many other details of the text in the documents. It provides support for handling different types of data in the database, managing emails, create presentations, and performs complex spreadsheets calculations.
How to activate the Office 2021 Pro Plus key:
Download the .img file with this Official Download Link >>.
Decompress the img. file with software like WinZip.
Click on the setup launcher in the unzipped folder.
Please follow the instructions to accomplish the installation.
Run any Office App and redeem the key to activate Office 2021 Pro Plus.