AnyTrans - 1 Device - 1 Year
Special Price
$22.99
Regular Price
$59.99
Buy AnyTrans - 1 Device - 1 Year now! 
Meet any of your demands in managing iPhone, iPad, iPod, iCloud and iTunes content. AnyTrans lets you spend less time managing but more time enjoying your i-Life.
You will receive your code to redeem in your account within minutes by eMail. In order not to miss out the mail, please check the spam or junk mail folder too!
Delivery Time: 1~24 hours
Download: Official website
Operating platform: Windows, macOS
All Your iPhone Data. In Your Full Control
Transfer, manage, and back up data on iPhone, iPad, iPod, iTunes and iCloud, in a way easy, fast, and you like.
How To's You May Need
Transfer Videos from PC to Your iPhone
Transfer Photos from iPhone to iPhone without iCloud
Transfer Contacts from Android to iPhone 12
Transfer Contacts from Android to iPhone without SIM
Transfer Text Messages from Android to iPhone
Transfer Data from One iPhone to Another
How to Set MP3 as Ringtone on iPhone
Transfer Data from One Apple ID to Another
Why AnyTrans Is Your Go-to iOS Manager?
Full-Way Transfer
AnyTrans breaks the sync boundaries to let you freely transfer content across iPhone, iPad, iPod, iTunes, iCloud, and computer as you wish.
27 Types of Data
Fully manage 27 types of iOS content from one handy place, taking care of almost all the data and files that matter to you in everyday life.
Flexible Backup
Back up data in your preferred way. Choose full backup or incremental backup as you need. Or, back up iPhone automatically and wirelessly if you like.
1-Click Quick Transfer
Save a huge amount of your precious time and effort by batch importing or exporting all/selected iOS data with one simple and quick click.
0 Tech Knowledge
No tech knowledge or skills required. Even your grandparents or novices can get done what they want easily and smoothly via an intuitive interface.
More Than iPhone
AnyTrans covers all models of iPhone, iPad, and iPod touch running iOS 5 and above. Feel free to manage content of any iOS device in your family.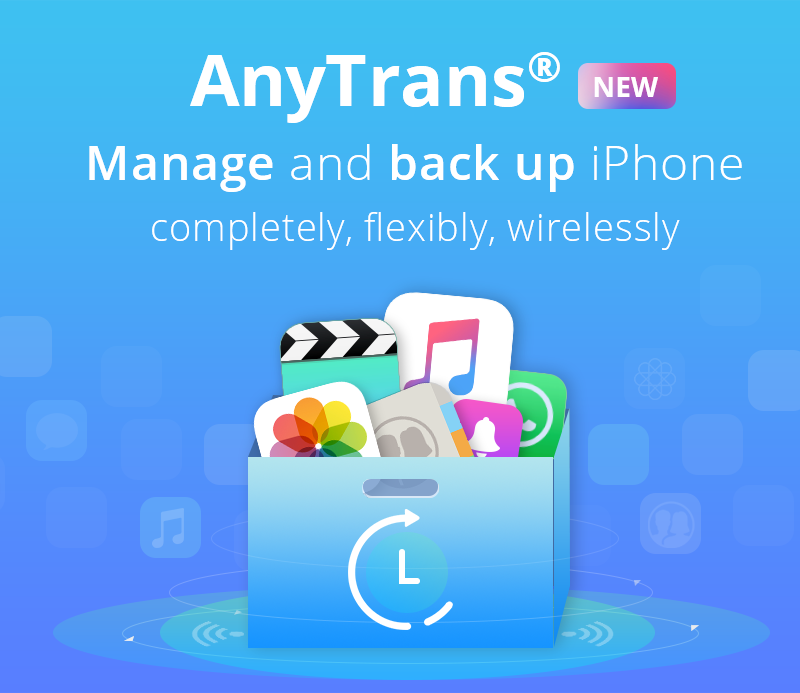 How AnyTrans Gives You Full Control Over Your Data
Export iPhone Photos & Videos by Category
Feel a mess when you need to find specific iPhone photos from the thousands and export them to computer? Not anymore with AnyTrans. It smartly organizes different types of iPhone photos and videos into different folders, like Live Photos, Selfies, Slo-Mos, Time-lapses, or albums you created. So you can quickly locate the ones you want, and transfer them to computer by category with one single click.
Transfer Music The Way You Like without iTunes Restrictions
Set yourself free from iTunes restrictions, and transfer music freely across iPhone, iPad, iPod, computer, and iTunes as you like. You can export songs from iPod to computer or iTunes library. Drag music to iPhone without erasing existing songs - that means you can add music from multiple computers. Isn't it cool? What's cooler is that you can even take your music library from an old device to new iPhone. All in a tap.
Back Up or Print Messages, as Well as Attachments
Messages are not just messages, they could be precious memories or important evidence as well. So AnyTrans takes care of them for you. No matter you want to export them to computer for backup, or print them out to prove your point, it's one-button easy. What about the attachments, like photos, videos, music, voice recordings, Animoji/Memoji/Emoji stickers, etc.? No worries. AnyTrans covers all attachments, too.
Manage iOS Apps in Batches from Computer
Tired of downloading or updating tens of apps one by one repeatedly on each iOS device in your family? AnyTrans feels your pain. Now you can batch download apps and updates to computer for just once, and then install them to your iPhone, iPad, and iPod touch by simply clicking a button. Got a new iPhone? Move over all apps and app data with one tap, no more re-downloading. You'll thus save a huge amount of time, effort, and bandwidth.
A Versatile Manager for All Your Personal Info
AnyTrans has everything you need to manage your personal info on iPhone. Remove old contacts to keep your list clear. Save important notes for backup. Export Safari bookmarks and URLs, so you can pick up where you left off on computer. And more.
Transfer WhatsApp Chats to Anywhere You Want
Your WhatsApp conversations are too precious to lose, so AnyTrans keeps your complete chat history as well as all attachments within your reach. Whether you want to migrate them to new iPhone, or create a backup on computer in case of accidents, it's a click away.
Upgrade to A New iPhone? Move All Data Over at One Go
Changed to a new iPhone? Warm it up with your sweet memories and important information. No matter you're upgrading from an old iPhone or Android phone, AnyTrans migrates everything that matters to you in one click - photos you shot, music you like, contacts you saved, messages you sent and received, and anything you need. You can even transfer apps to new iPhone at one go. Don't have to waste time and bandwidth re-downloading apps one by one.
Don't Worry About Losing Valued Data. We've Got Your Back(up)!
Back Up More Data in Your Preferred Way
AnyTrans backs up 10 more types of files than iTunes to keep more of your valued data safe. You can also decide how to make backups. Choose Incremental Backup to copy only added or changed data since the previous backup, saving you much time and disk space. Set a schedule to let AnyTrans back up your iPhone automatically and wirelessly at your preferred frequency: daily, weekly... Everything you care about is backed up the way you like.
Extract Needed Data from Your Backup Confidently
Lost important data but not sure which backup they lie in? No more guesses. AnyTrans enables you to preview every piece of data contained in every backup of yours, no matter it's created by iTunes or AnyTrans. So you're 100% sure where to get back the lost data. Just feel free to extract what you need from the backup to iPhone, without erasing existing content. Or, make a full restore if you want. Say goodbye to blind restore without choice.
See What's More AnyTrans Can Do for You
Enjoy Unique Ringtones That Suit You
Turn your favorite song into yourpersonalized iPhone ringtone easily
Screen Mirroring
Mirror, record or capture the screen ofyour iPhone, iPad, and iPod touch
iTunes Library
Break restrictions to manage iTuneslibrary and backups with more choices
iCloud Manager
Manage and transfer iCloud data &files in a way easier, quicker, and secure