Ashampoo UnInstaller 12 - PC
Special Price
$21.51
Regular Price
$40.99
Availability:
Out of stock
Buy Ashampoo UnInstaller 12 - PC now! 
Ashampoo UnInstaller 11 combines four techniques to delete the software. It's the ideal solution to delete programs, Windows Apps, and browser add-ons quickly, easily, and without leftovers.
You will receive your code to redeem in your account within minutes by eMail. In order not to miss out the mail, please check the spam or junk mail folder too!
How to download:Official Download Link
Description:
Uninstalls better than Windows alone!
Ashampoo UnInstaller 12 helps you install, test and remove software without leftovers–and without worries. You decide what stays and goes on your PC! The program monitors each installation extensively to allow for its complete removal if needed. Even unmonitored installations are completely reversible thanks to UnInstaller's four-way uninstallation method plus in-depth cleaning. Unwanted software, browser extensions and toolbars are completely gone in a single click with UnInstaller 12! Want to know what really happens to your system during installations? Our snapshot technology will show you exactly every single modification to your files and Windows Registry!
Say no to unwanted programs!
Ashampoo® UnInstaller 12 gives you full system power! You can now put programs you're not currently using into hibernation. This means associated Autostart entries, tasks, and services will no longer have to be loaded and won't strain your system until you wake them up again! The popular cleaners are powered by a new search algorithm and now run 50% faster while yielding better results than ever before! They also consume less memory and fully support the latest browsers and, naturally Windows 11! There's also new cookie management that works across browsers and allows you to easily whitelist entire domains via wildcard characters. Enhanced visuals, improved ease of use, and better safety: Get ready for the best-in-class uninstaller. Get ready for Ashampoo® UnInstaller 12!
Innovative hibernation mode: Put programs to sleep and free up resources without uninstalling
Drive cleaner with smart scanning and reduced memory footprint
Registry cleaner with multi-core support
Lightning-fast internet cleaner with up-to-date browser profiles
Nifty cookie manager to whitelist safe cookies
Clear and concise start page with status notifications
Buttons, icons, and dialogs optimized for Windows 11 design
More efficient in-depth cleaning
Well-designed cleaners with animated user interfaces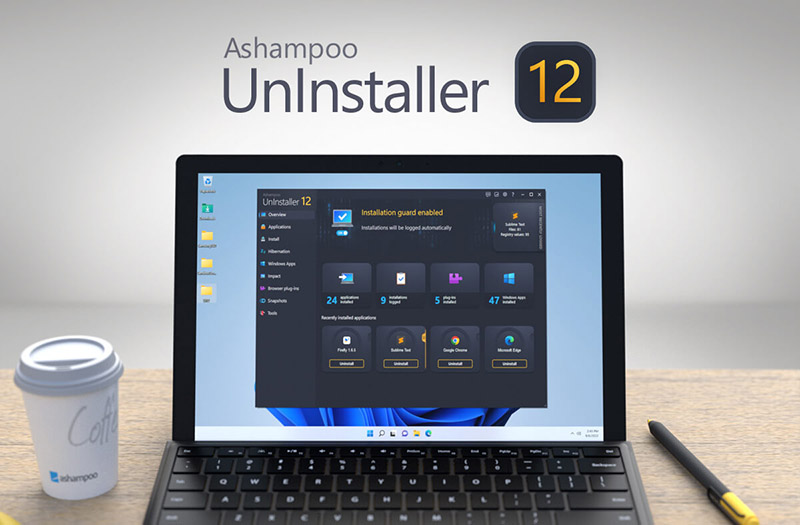 Put your programs into hibernation!
Save resources and free system memory without uninstalls!
Programs launch processes and consume considerable resources even when you're not currently starting them. Would you still rather have the full power of your machine available? Hibernation disables all Autostart entries, tasks, and services until you need the program again! Free system memory, shorten boot times, and get maximum performance out of your CPU for the things you really need! A single click is all it takes to wake programs from hibernation should you need them again.
Taking cleaners one step further
Find junk files 50% faster!
UnInstaller 12 is our most powerful uninstaller yet, with 50% faster cleaners and superior junk detection–all while consuming less system resources and making full use of multi-core machines! Track down junk files, web browsing traces, and corrupt Registry entries in a flash. Use smart filters and adjust cleaning procedures to your liking across browsers and user profiles. Reclaim valuable disk space in a matter of seconds!
Universal cookie management
Manage and protect cookies across browser
Despite their usefulness and added comfort, internet cookies have sadly turned into a privacy nightmare. Our new cookie manager will help you safely manage your cookies across all of your browsers! Separate the wheat from the chaff and preserve login sessions while eliminating cookies that invade your privacy. Wildcard characters are fully supported and allow you to mark entire domains as safe, but you can also manually add individual URLs. Your settings apply to all of your browsers and can be exported and imported for easy transfer across devices.
More in-depth cleaning, more clarity
Attention to detail for greater ease of use and results
UnInstaller stands for meticulous scanning, which gives the program its unique properties. In-depth cleaning is now more thorough than ever before, thanks to the new cleaners. The start page has been fine-tuned and offers new animations, more concise status messages, and better contrast. "Impact" now factors in scheduled tasks for more realistic results. Buttery smooth animations also give the cleaner modules a new look and feel. And the new uninstall algorithm exercises particular caution with system-critical areas so you don't have to worry about a thing.
Install and uninstall fully automatically
Best-in-class installation monitoring for your Windows machine
Our latest installation guard detects different installer types and uses per-type optimization to track even the most minute modifications to your system. In most cases, logging will also start and stop automatically so you can just sit back and watch! In addition, the program can tell fresh installations from updates to avoid erroneous logging! This lets significantly improves UnInstaller's logging capabilities and gives you a more nuanced picture of what happens on your PC during installations!
Review installed programs neatly arranged by category
Which programs are installed and what category do they fall in?
As systems age, programs start to pile up making it harder to keep track of your software. UnInstaller 12 comes with a handy categories view that lists all of your installed software by category. The program recognizes your installed software applications automatically and sorts them into their respective categories. You can even categorize (very recent) unknown applications manually. And because the categories view is so useful, you can also set it as your UnInstaller start page!
For Windows 11, and also 10, 8, and 7, naturally!
No matter which Windows you're using, Ashampoo UnInstaller has got your back!
Ashampoo® UnInstaller 12 rids your PC of no longer needed or sub-par applications–but it also gets rid of all the nasty programs that were secretly snuck onto your PC! Especially download portals love to bundle their software with "add-ons" that border on spy or malware. These potentially unwanted programs (PUP), often disguised as toolbars or little helpers, are out of luck when it comes to Ashampoo® UnInstaller 12. We don't like them and we're sure you don't like them either! UnInstaller even detects nested installers and wipes them off your system at your leisure!
System startup in full view
Analyze and disable Autostart entries and scheduled tasks at your convenience
What happens in your PC when you press that power button? What programs and tasks are loaded–and is there a way to speed things up? Boot Center will show you what goes on on your PC during booting. Examine running processes and autorun entries and disable unnecessary programs, including system-default apps! The handy task view lists all Windows tasks, even orphaned entries that got left behind during uninstalls. Rid yourself of unneeded items and boost the boot time of your Windows PC!
Review Windows tasks and cast off baggage
Supreme Windows task management with filters and smart views
The beauty of Windows task scheduling has never been greater!Take the easy way out and find tasks that aren't needed or have been forgotten about, rather than slogging through drab system menus.Make use of the filter to gain a better overview and deactivate or remove unnecessary tasks.Uncertain of what to delete?You'll need the smart built-in search to make that decision!
Perfect heuristics and database-powered uninstallations
Handles even nested and exotic setups like a boss
On Windows machines, different setups behave differently.UnInstaller 12 recognizes and adapts to the behavior of typical installers.UnInstaller is the only uninstaller that uses background knowledge to monitor and log setups, just like heuristics in antivirus software!Now, log files are safer, more detailed, and even easier to differentiate.between program updates and installation.Ashampoo UnInstaller 12 is able to undo even the most complicated or exotic setups thanks to this brand-new technology, which makes it easier to identify leftover files.