Office 365 Pro Plus Account + Windows 11 Professional Key Bundle
Special Price
$71.74
Regular Price
$276.74
Buy Office 365 Pro Plus Account + Windows 11 Professional Key Bundle.
This product includes one Windows 11 Pro - 1 PC key and one Office 365 Professional Plus account. The product will be sent by email after purchase within minutes. Please check the spam or junk mail folder too.
This product is available for PC in both 32-bit and 64-bit versions, but not for MAC.
Office 365 Pro Plus Account is a new account, NOT CD-Keys or CDs/DVDs! You can get the details and informations in the delivery eMails.
Download Link: Windows 11 Professional, Office 365 Pro Plus Account .
More information about download and installation you can find in the description below or in the delivery email.
About the new Windows 11, visually, the biggest changes you'll notice can be found along the taskbar. Microsoft has centered the app icons here, cleaned up the tray area, and included a new Start button and menu. The Windows 11 start menu is now loaded with more features and tools and it gives quick access to various tools and controls. Its desktop lets you run several apps and programs simultaneously, each living within its own little window. That separation lets you spread several programs across the screen, sharing bits of information among them. In general, the changes of Windows 11 make user interface more concise and clear. Various tools will also make you obviously feel the optimization and improvement of the system
Advantages of Office 365 Professional Plus Account:
Office 365 Professional Plus Account gives you access to the latest available Microsoft Office suite of applications.
Office 365 makes it FREE to upgrade whenever Microsoft releases a newer version of Office in the future.
With Office 365, you can get all your favourite Microsoft Office applications including Word, Excel, Powerpoint, Access, Outlook, Publisher and MUCH MORE!!! 
New Features of Windows 11 Professional: 
Snap groups remembers your layout
Snap the apps you need into a group and seamlessly return to it even when you open another app or dock and undock your monitor.
Productive from the start
Improve your focus with a simpler, more intuitive experience and effortless navigation. Get things done with fewer steps using the refreshed Start, Taskbar, and Navigation Center.
Smarter collaboration with Teams
Have effective online meetings by sharing files and muting/unmuting right from your taskbar. Intelligent noise cancelling and blur keep the background in the background. 
Consistent for IT
App compatibility and cloud management make adoption easy. Built on the consistent and compatible Windows 10 foundation, Windows 11 can be managed with your familiar tools and processes.
Powerhouse protection out-of-the-box
Modern threats require modern security with a strong alignment between hardware and software to help keep data safe and devices protected. Secure from the start, Windows 11 offers protection right out of the box with powerful, built-in hardware-based security.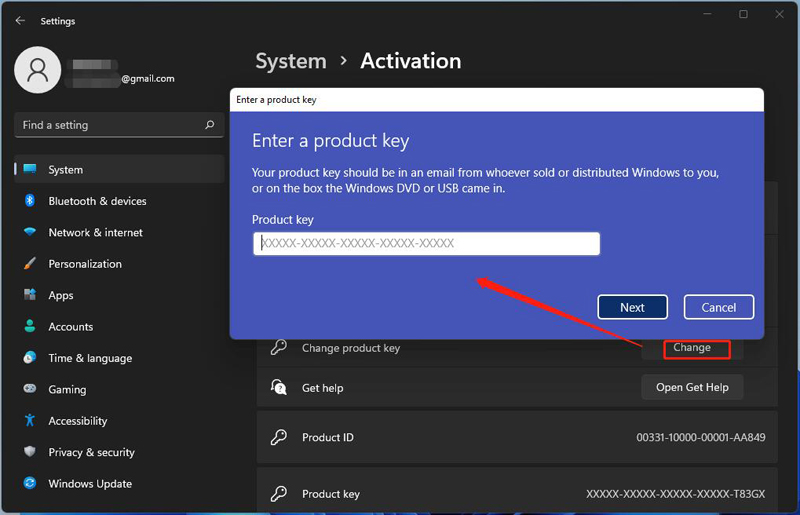 How to Activate Windows 11 Professional Key?
1. Download Windows 11 Pro from official website: Link Here
2. Install Win 11 Pro
3. Click on "Start"
4. Open "Settings"
5. Click on "System".
6. Find a message from the right section: "Windows isn't activated", and click the Activate now button.
7.Under the Change product key section and click "Change".
8. Type the activation code sent to you after purchase.
9. Click "Next", Windows will begin the activation task.