Windows Server 2019 Datacenter Key - 1 PC
Special Price
$46.10
Regular Price
$461.24
Buy Windows Server 2019 Datacenter Key - 1 PC.
This product includes one Windows Server 2019 Datacenter key for one PC. The key will be sent by email after purchase within minutes. Please check the spam or junk mail folder too.
Windows Server 2019 Datacenter Key is available for PC in both 32-bit and 64-bit versions, but not for MAC.
Download link: Windows Server 2019 Datacenter
Converting an evaluation version to a full retail version: Official Guide
More information about download and installation you can find in the description below or in the delivery email.
Windows Server 2019 Datacenter description:
Windows Server 2019 Datacenter is the lastest version of the highly virtualized software built specifically for private and hybrid cloud environments. The innovative software focuses on providing the highest level of flexibility and control for the enterprises that need centralized solutions to more easily manage cloud-ready workloads.
As a result of this version's integrated data recovery capabilities, your business will be safer and more productive. Among the benefits of cutting-edge technology are increased speeds, a larger storage capacity, and Windows Server 2019. By purchasing the Windows Server 2019 download from the Microsoft Office Store and receiving an instant digital copy, you can begin immediately. Windows Server 2019 is the best choice if you want to develop and discover new horizons.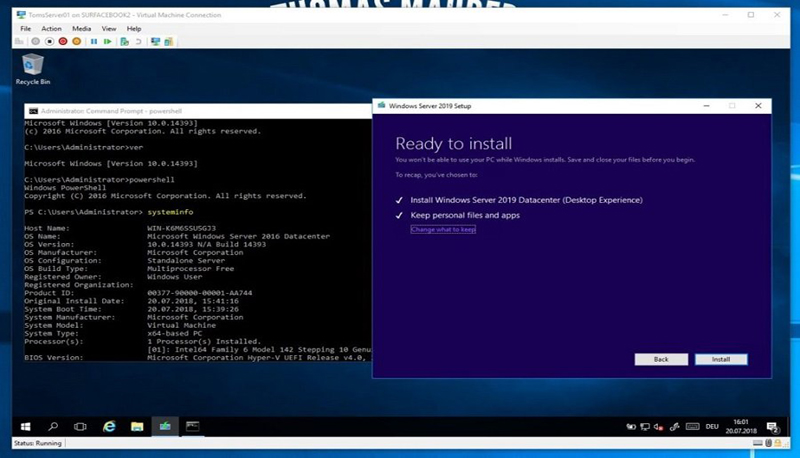 Features:
All in one
Being the most powerful and most comprehensive version of the line, Windows Server 2019 Datacenter naturally carries all the pre-existing features that Standard users enjoy, along with many more finishing touches.
The most basic difference lies in the number of containers allowed in the system.
While the Standard version offers only 2 containers, there is no limit for the Datacenter version, so theoretically, you can use as many containers as you want, so long as the hardware can support it.
Better Security
Security is one of the highlights of Windows Server 2019, but Datacenter takes it to a higher level with the Shielded Virtual Machines function. This certain security protocol will protect all Hyper-V virtual machines from unauthorized access or tampering from external sources, adding a strong virtual wall to your server.
No Storage Limit
If storage features limit in the Standard version gets on your nerve, then Datacenter will certainly dispel that annoyance. There is no storage limit for features like Storage Spaces Direct or Storage Replica, allowing you to tweak the system to its fullest.
Finally, Datacenter offers the ability to stack networks, a feature that surely gives it an edge over the Standard version.
To sum up, Datacenter is a great version for a large business with a focus on cloud-native storage systems. The features that come with the software will make your investment worthwhile.
Converting Windows Server Evaluation Version to Datacenter Version:
Open up a Powershell window and run as Administrator.
Enter the following command:
DISM /Online /Set-Edition:ServerDatacenter /ProductKey:xxxxx-xxxxx-xxxxx-xxxxx-xxxxx /AcceptEula
DISM will proceed to make the required changes and will request a reboot. Press Y to reboot the server.
Once the server has rebooted, log back in and open up Powershell again and check the current version of your system by typing:
DISM /Online /Get-CurrentEdition
System Requirements
• Processor: 1.4 GHz 64-bit CPU
• RAM: at least 512 MB. ECC type or similar technology; for physical host implementations
• Hard disk: (available space): at least 32 GB
• Network adapter: Ethernet adapter that has at least gigabit processing capacity; complies with PCIE-E.
• Other requirements: DVD drive (if you want to install the operating system from DVD media)