Windows Server 2019 Essentials Key - 1 PC
Special Price
$48.15
Regular Price
$471.49
Buy Windows Server 2019 Essentials Key - 1 PC.
This product includes one Windows Server 2019 Essentials Key for 1 PC. The key will be sent by email after purchase within minutes. Please check the spam or junk mail folder too.
Windows Server 2019 Essentials Key is available for PC in both 32-bit and 64-bit versions, but not for MAC.
Download link: Windows Server 2019 Essentials
More information about download and installation you can find in the description below or in the delivery email.
Windows Server 2019 Essentials description:
Microsoft Windows Server 2019 Essentials is a cloud-compatible operating system that is powerful enough to support the workload of up to 25 users and 50 devices. The operating system includes everything your business needs to run smoothly and it is inexpensive and more suitable for small businesses. The Essentials Server 2019 package contains all of the best features from the full Windows Server 2019 so small businesses can successfully compete in todays economy. This is a good choice for customers who want to upgrade from a Foundation edition, which is not available for Windows Server 2019. The system brings great new layers of security to the table and possesses Azure-inspired innovation for the applications and infrastructure that can transform the way you do business.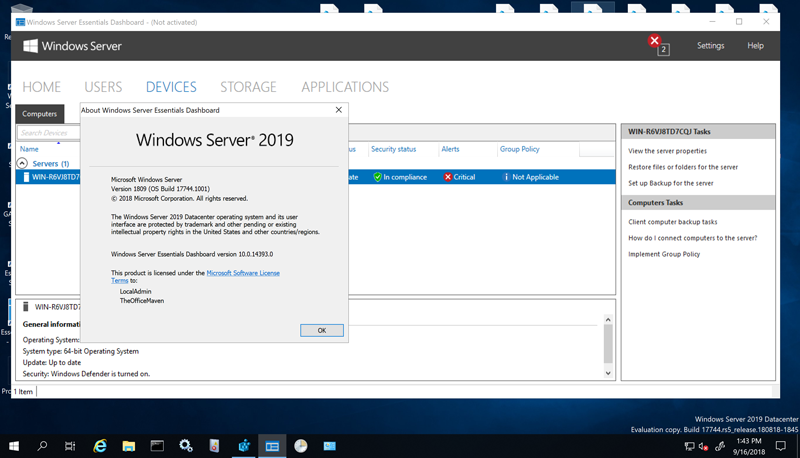 Windows Server 2019 Essentials Key Features:
Connect Windows Server deployments to Azure services
Use natively integrated services such as Azure Backup and Azure Site Recovery without disrupting applications and infrastructure with Windows Admin Center.
Faster innovation for applications
Enable the creation of cloud-native apps, and modernize traditional apps using containers and microservices. Enable Developers and IT Pros to create cloud native apps, and modernize traditional apps using containers and microservices.
Easy administration
Use the Windows Admin Center to manage your servers, clusters, hyper-converged infrastructure, and Windows 10 PCs with a browser-based app.
Improved Linux operations
Run Linux and Windows containers side by side. Windows Server 2019 reduces complexity by enabling developers to use standard tools such as Open SSH, Curl, and Tar.
System Requirements
Required Processor: 1.4 GHz 64-bit EMT64 or AMD64 processor required. The processor must support LAHF/SAHF, CMPXCHG16b, and PrefetchWNeeds.
Recommended Memory: 2 GB RAM (32-bit) and 4 GB RAM (64-bit)
Required Hard Disk Space: 3 GB free space
Required Display: 1024 x 768 screen resolution or higher
Required Graphics Card: DirectX 10 graphics processor
Required Connectivity: Internet access (fees may apply)
Operating System: Windows 10, Windows 8.1, Windows 8, Windows 7, Windows Server 2016, Windows Server 2012 R2, Windows Server 2012, or Windows Server 2008 R2.